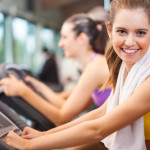 "You are never too old to set another goal or to dream a new dream."––CS Lewis
Do you want to build muscle? Improve flexibility? Have an enriched overall sense of well-being? These activities will help you with your goals in no time:
Want to Lose Weight?
Try Zumba.
This high-intensity cardio workout will help you look fabulous in anything you choose to wear and also serves as a total-body workout routine.  On average, according to the University of Wisconsin, people burn an average of 369 calories per workout!
Try Spinning.
The average woman can burn up to 700 calories for every one hour cycle of spinning! Some studies suggest that spinning is not recommended for beginners, but fitness experts claim that the rate of spinning can be adjusted according to the participant's skill level. If you want to shed a few extra pounds, spinning is the fun, social way to keep up with your goals!
Want to Build and Tone Muscle?
Try CrossFit.
Fast, fun, and effective, CrossFit is perfect for the person looking to tone up and build muscle. This method is all about pushing your physical endurance to the limit and taking bigger steps in your routine. It can be intimidating at first to join a CrossFit gym, but trainers are interested in encouraging you with your health goals.
Try Kettlebells
This activity builds muscle and endurance effectively. It's a strength training workout and can give you the cardiovascular workout you desire. Make sure your body is prepared and in good physical fitness before starting kettlebell workouts. Listen to your body and workout at your own pace. Fun fact: the average woman burns roughly 600 calories in a single 30 minute kettlebell workout routine.
Flexibility
Try Bar Method.
Isometric principles combined with dance conditioning result in a low intensity and rewarding workout for those seeking more flexibility. Another advantage to this workout is the result of sleek, toned arms and legs over the course of a short period of time.
Neighbors is equipped to respond to workout injuries 24/7. Come by or call for any questions regarding emergency services and your health today.