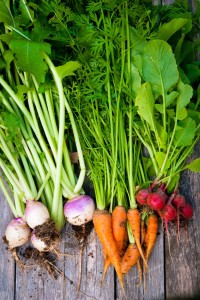 The scene is beautiful: You and your family are picking fresh tomatoes from the garden to add to your salad for dinner. The evening is breezy, and birds are singing softly on the branches of your favorite tree. You may think planting a vegetable garden takes too much work, but if you treat your garden like a family project, you can get it done in no time with the whole family's help.
Keep your garden small at first by planting only a few of your family's favorite veggies so nothing will go to waste. Find an area of the lawn that gets plenty of sunlight. Moisten the soil with compost or peat moss that you can purchase at your local garden center. Before you plant, gather the family together for a family meeting and decide when you're going to tend to the garden. Just an hour every week can make the difference between a mediocre garden and a garden that's full of delicious veggies.
If you have an apartment or a smaller house, you might not be able to plant your own vegetable garden. Try planting an herb garden on your windowsill instead. You can use repurposed tins or traditional pots to hold useful kitchen herbs like basil, oregano and mint. Make sure that the area gets plenty of sunlight, and water your herbs regularly. They'll be ready when you start cooking up something incredible!