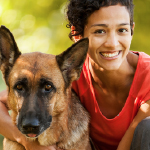 The benefits of exercise are numerous and it can be even more beneficial with your dog! You and your pet can have a fun cardio workout together and it's a great motivator to spice up the routine of long jogs.
Before reaching full running speed, make sure to ease into the run first. The American Kennel Club recommends that canines should be active for thirty minute increments twice a day. If your dog's not active to begin with, try setting the pace at 15 minutes, and adding 5-10 minutes to you and your dog's workout each week.
Make sure to pace yourself while running. Some dogs, depending on size, can run faster than their owners. Also remember to bring plenty of water for you and your pet. Dehydration can be a serious, even fatal, problem for both of you while exercising.
Neighbors would love to know how you and your four-legged friend workout! Leave a message in the comments below and share your favorite exercise tips. If you have questions about your health and fitness, stop by or call anytime, day or night. Neighbors is open 24/7 and ready to assist you.