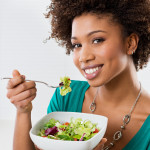 The New Year is here and after all that not-so-healthy holiday food, most people feel it is necessary to add: "Lose weight/Eat healthier" to their new year's resolutions. The good news is: you don't have to dive into your diet all at once; in fact, experts recommend easing into healthier eating habits by making small changes to your everyday life.
Start your day with a big glass of water and some sort of physical activity such as walking, going to the gym or doing yoga.
Eat a big, balanced breakfast every morning. Skipping breakfast does the opposite of helping you lose weight since it makes you over-eat later.
Keep only healthy foods around your house and place of work, that way you won't be tempted to eat foods that are bad for you.
Eat more mushrooms (they are immunity enhancers) and foods that contain alkaline such as pears, kale and lemons (they balance the body's PH and blood sugar levels, as well as reduce inflammation).
Eat a light dinner.
Take magnesium supplements before bed.
Sleep at least seven hours a day.