There is no better way to spread festive holiday cheer than to throw a holiday party. It's the time of year when friends and family come together to share food, laughter, and the joy they have cultivated all year.
While everyone loves delicious holiday food, they also want the freedom to socialize with the crowd without looking like they're stuffing their faces. Save your guests the embarrassment of getting caught in an unflattering eating photo with bite-sized eats that are easy to swallow.
Appetizer: Mini Cheeseball Bites
For a classic appetizer that makes munching-while-mingling simple, consider these crowd-pleasing cheeseball bites. They're like the standard cheese ball party fare, but instead of an awkward large lump that everyone shares, these offer individual portions that guests can eat in one bite.
8 ounces cream cheese, softened
3/4 cup white cheddar
3/4 cup dried fruit
1 1/2 cup mixed nuts, finely chopped
1 1/2 cup bacon crumbles
Medium-sized pretzel sticks
1 – 1 1/2 tablespoons italian seasoning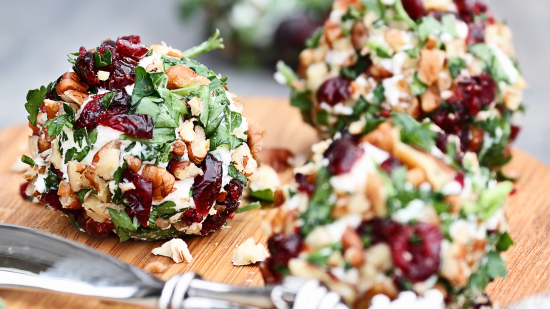 Beat together cream cheese, cheddar, fruit, and herbs until smooth. Form into balls and place on baking sheet to chill for at least 2 hours. Roll each ball into bacon, nuts, or both. Use the pretzel for a holding stick and enjoy!
The Main Course: Korean Meatballs
Spice up your holiday party with some spicy Korean-style Gochujang meatballs. These tasty treats are rolled into perfect bite-size balls so you're able to pop them in your mouth with ease.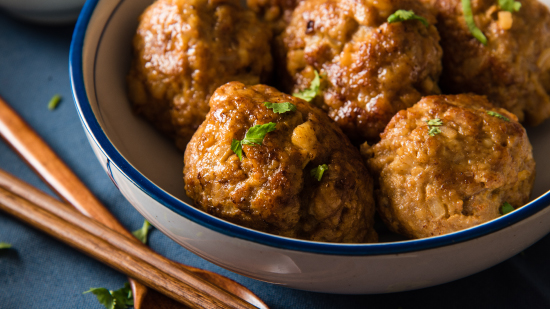 FOR THE MEATBALLS:
3 green onions, very thinly sliced
2 garlic cloves, minced
1 egg, lightly beaten
1 pound ground beef
1/2 cup panko breadcrumbs
2 tablespoons gochujang (Korean chili paste)
1 tablespoon minced fresh ginger
1 teaspoon kosher salt
1/2 teaspoon ground white pepper
2 tablespoons canola oil, for pan-frying
FOR THE GLAZE:
1/3 cup apricot preserves
2 tablespoons gochujang (Korean chili paste)
1-1/2 tablespoons rice vinegar
1 tablespoon soy sauce
FOR THE GARNISH:
Sliced green onion
Toasted sesame seeds
Preheat oven to 350 degrees. In large bowl, combine all meatball ingredients except oil. Be careful not to overmix! Form into small meatballs and then brown them in batches in the oil in a large skillet. Transfer browned meatballs onto a baking pan and bake for 10 minutes.
In a small saucepan, combine all the glaze ingredients and then simmer for 5 minutes over medium, until mixture thickens. Before serving, brush meatballs with glaze and sprinkle with garnish. Spear with mini forks for portability.
Dessert: Strawberry Cheesecake Bites
No party is complete without a scrumptious dessert. These strawberry cheesecake bites are a unique spin on chocolate-dipped fruit and cheesecake. They only have a few steps and can be made the night before your event.
8 ounces cream cheese
1/2 cup confectioners sugar
2 teaspoons vanilla extract
12 large fresh strawberries, hulled
2 tablespoons graham cracker crumbs
2 (1 ounce) squares semisweet chocolate chips
1 teaspoon canola oil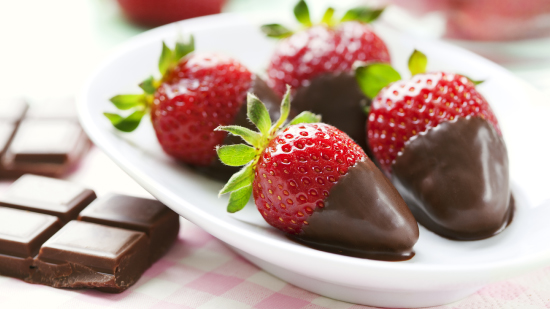 Beat together cream cheese, sugar, and vanilla extract until smooth. Spoon mixture into a piping bag and fill hollowed strawberries with about 1 tablespoon. Dip exposed filling into the graham cracker crumbs. Melt the chocolate and oil in a bowl in 30-second intervals, stirring in between until warm and smooth. Dip the unfilled ends of the strawberries into melted chocolate and chill on a baking sheet until set.
Your friends at Neighbors Emergency Center hope you have a safe and happy holiday season. Remember, we are open 24/7 year-round, even on holidays, so if you have an emergency, come see us. Check our Facebook page for the latest information. With our 24 hour emergency rooms throughout the Houston metro area, we can treat you quickly and effectively so you can get back to doing what you love.