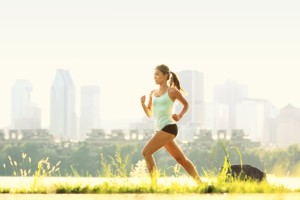 It's not easy to get in a great workout when it's hot and muggy outside. For Houstonites, summer feels like the perfect opportunity to stay indoors and watch a movie. While we at Neighbors Emergency Center love movies, it's also important to keep up your energy at all times of the year.
During Houston's hottest months, hydrate even when you don't feel thirsty. If you feel thirsty, it means your body is already dehydrated! Work out early in the morning or in the evening as the sun is going down. Never work out at mid-day or you'll run the risk of getting heat stroke. If you enjoy exercising outside, make sure your gym bag is packed with a couple of bottles of water, bug spray, and a sunscreen with a high SPF.
If you have kids, you may already be working out more than you realize. Soccer, the trampoline, and swimming are all kid-friendly activities that can help you get the exercise you need without feeling obligated to take time out of your busy schedule. If you really can't stand the heat, take the kids inside and try having a spontaneous dance session or teaching them how to do yoga with an at-home DVD. As long as you're moving, you're getting the right kind of workout for summer.