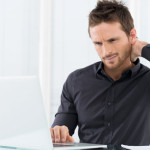 A recent survey conducted by the American Osteopathic Association (AOA) gathered responses from 1,000 office workers above the age of 18 and concluded that 2 out of 3 office workers have experience physical pain in the last six months from office-related stresses. In a period of 30 days, 62% of participants had lower back pain, 53% experience neck pain, 38 % should pain, and 33% wrist pain.
Muscle fatigue from slouching at work is the number one culprit for bodily pain in the work place. Ultimately, though, your job shouldn't be causing you pain. Stretching every 30 minutes can alleviate symptoms of discomfort throughout the day. Resting your eyes periodically can relieve some of the tension from looking at a monitor consistently throughout the day. Make sure to use your backrest as needed and place both feet firmly and flatly on the floor.
Neighbors Emergency Center can help with injury at the workplace and with other common illnesses and injuries. If you're experiencing extreme discomfort from a repetitive activity, call or come by Neighbors to discuss your medical treatment options, or visit us on the web at nec24..com.