After a long day, many of us don't feel like making dinner and prefer to call our favorite Chinese, Indian, or Mexican restaurant or place an order online for take out. It's just so easy, and the dishes are usually comforting and delicious. Take out saves time, but it's not very friendly on your waistline or wallet. At a restaurant, you can't control how much sugar, salt, oil, or butter is put into your food, and cooking at home can save you close to $150 a month. Good news! You can make many of your favorite take out dishes at home cheaper and healthier!
Lightened Up General Tso's Chicken
Instead of deep frying pieces of dark meat chicken, bake one inch chunks of skinless chicken breast. Top the cooked chicken pieces with a healthier version of the sauce that doesn't have as much sugar and sodium in it.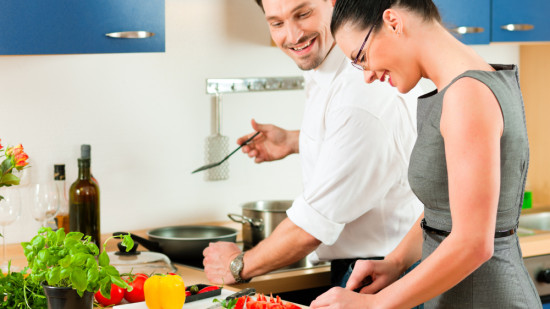 Making the dish a little spicy gives it great flavor and makes it so you don't miss all the unhealthy ingredients. Get the recipe here.
Skinny Chicken Enchiladas
Common ingredients in Mexican cooking such as black beans, corn, tomatoes, and chilis are relatively healthy, but restaurants like to add tons of melted cheese and sour cream, and then deep fry certain dishes making them very unhealthy.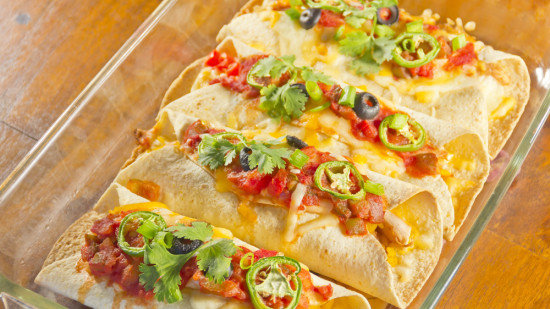 Some of these might be your favorites when you order take out from your local cantina, but these chicken enchiladas that you can make at home will make you change your mind.  Use cooked, shredded, skinless chicken breasts and whole wheat tortillas to instantly lower the calorie count and up the health quotient. By using lots of herbs and spices like chipotle chili powder, cumin, and cilantro, these enchiladas are packed with flavor. You can even top them off with some low fat shredded cheese!
Chickpea Coconut Curry
This chickpea coconut curry invokes all the flavors of your favorite Indian take out and it's easy to make because you can make it in your slow cooker. Even though this recipe is vegan, you can add baked pieces of skinless chicken breast if you eat meat.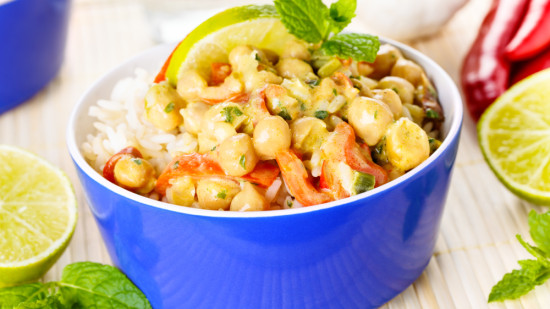 Chick peas are a great source of protein and fiber, and coconut milk is a good dairy free alternative if you are lactose intolerant. Vegetables like sweet potato, cauliflower, and tomatoes make this dish highly nutritional, and the curry, garam masala, and ginger make it aromatic and flavorful.
The next time you want to pick up that take out menu, put it down and get in your kitchen! These dishes are easy to make, will save you money and calories, and above all, they are delicious.
Remember that Neighbors Emergency Centers are here for you to treat any emergency you may have. We are open 24/7/365, and we have short wait times to get you back to doing what you love most. Find your nearest Neighbors at nec24.com.