A warm drink is the perfect solution as it begins to cool down this winter. From sitting in front of the fire to watching holiday movies, hot chocolate is the perfect addition to any holiday activity. Whether it's the warm creamy taste you love the most, or the fun toppings you can adorn it with, hot chocolate is something everyone can enjoy! Try something new with these fun and creative hot chocolate recipes from the Food Network!
Red Velvet Hot Chocolate with Marshmallow Whip Cream
2 cups whole, 2-percent or skim milk
1 cup chopped best-quality semisweet chocolate
2 tablespoons best-quality Dutched cocoa powder
1 teaspoon red food coloring
1 teaspoon pure vanilla extract
Marshmallow Whipped Cream
1 cup heavy cream
3 ounces cream cheese, at room temperature
1/2 cup marshmallow creme
1 teaspoon pure vanilla extract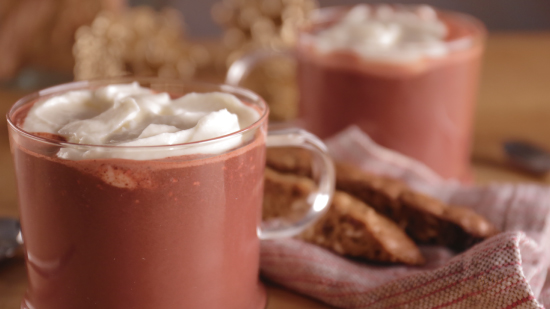 Whip the cream and cream cheese until soft peaks form. Then, fold in the marshmallow creme and the vanilla. To make the hot chocolate bring the milk to a simmer, and add the chocolate and the cocoa powder. Stir until smooth. Then add the food coloring and vanilla. Whisk all ingredients until they are frothy. Finally pour, serve, and enjoy!
Peppermint Hot Chocolate
2 1/2 cups whole milk
2 cups half-and-half
4 ounces semi-sweet chocolate, chopped
4 ounces bittersweet chocolate, chopped
2 tablespoons good cocoa powder, such as Pernigotti
1 tablespoon sugar
1 teaspoon pure vanilla extract
1 teaspoon instant espresso powder (optional)
Candy canes
Sweetened Whipped Cream
Sweetened Whipped Cream:
1 1/2 cups cold heavy cream
1/4 cup sugar
1 1/2 teaspoon pure vanilla extract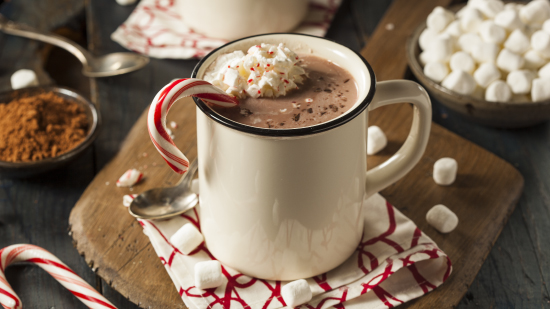 Heat the milk and half-and-half on medium heat until they begin to simmer. Remove from heat and add semisweet  and bittersweet chocolates. Once everything has melted together, whisk in the cocoa powder, sugar, vanilla extract, and espresso.  Crush candy canes and stir in 1/2 tablespoon into each mug. Top with sweetened whipped cream and enjoy!
Gingerbread Hot Chocolate
6 cups milk
1/4 cup Dutch-process cocoa powder
1/4 cup sugar
2 tablespoons molasses
3 teaspoons ground ginger
2 teaspoons ground cinnamon
1/2 teaspoon freshly grated nutmeg
1/4 teaspoon allspice
7 ounces good quality milk chocolate, chopped
Whipped cream, for serving
Mini marshmallows, for serving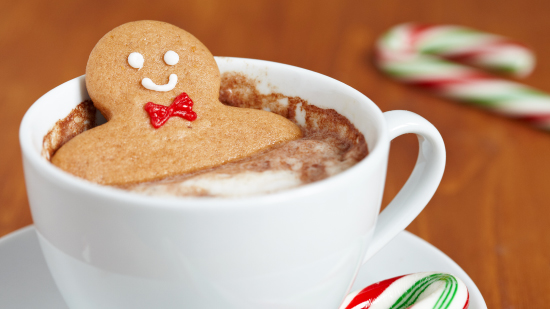 Combine milk, sugar, cocoa powder, molasses, ginger, nutmeg, and allspice together and cook over medium heat. Stir until all ingredients have dissolved together. This should take about five minutes. Do not let your hot chocolate come to a boil or overheat. Once the ingredients are smooth remove from heat and serve with whip cream, or marshmallows.
Neighbors Emergency Center hopes your holiday season is filled with delicious food and heart-warming moments with family. Check our Facebook page to learn more about our new emergency centers. With our 24 hour emergency rooms throughout the Houston metro area, we can treat you quickly and effectively so you can get back to doing what you love.