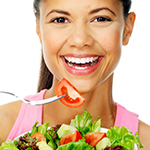 Trying to lose weight or cut back on cholesterol? Almost everyone will tell you the same things: start eating salads for lunch. But if you're making up for a salad's bland taste by smothering it in a fatty, sodium-rich dressing, you might as well not be eating salad at all. The thicker, creamier dressings are the worst, and non-fat dressings can be just as bad for you. Here are some salad dressing substitutes that taste great without adding to your fat and salt intake. 
Olive Oil and Vinegar: This combination makes a great replacement for oil-based Italian dressings. Olive oil is full of healthy antioxidants—just remember to stick with the virgin or extra virgin varieties as they have undergone the least processing. Vinegar has no fat or sodium, so it makes a much healthier salad dressing base than mayonnaise. You can add some lemon juice to the mix if you want more of a zing.
Salsa: Believe it or not, more and more people are putting salsa on their salads. Although salsa can have as much fat in it as the average salad dressing, it's mostly unsaturated fat, which is much better for you than the saturated fats found in Ranch or Thousand Island. Salsa is also full of fiber, which aids your digestion.
Avocado: Avocados are full of fiber, potassium, and vitamins. Very little of their fat content comes from unsaturated fats. Oh, and they're delicious. Adding avocado is a great way to bring both great taste and nutritional value to your salad. 
Hummus: Hummus has unsaturated fats and lots of protein, so it's much better for you than most salad dressings.
Make Your Own: Experiment a little and come up with your own homemade salad dressing recipe. Or look up a healthy recipe online. You'll have total control over what goes in it, so you'll be able to make it as healthy as you want.
Enjoy your healthier salads! And come into Neighbors Emergency Center the next time you have a medical emergency. Neighbors' board certified physicians provide 24 hour emergency care in Houston and Austin so that no illness or injury puts you out of commission for long.