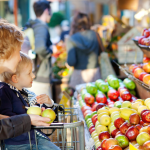 Eating healthy can be tough when you're living on a budget. Fortunately, there are many cheap and healthy options out there if you know where to find them. Next time you're at the grocery store, skip the snack section without having to splurge on expensive "superfoods" by buying these items instead.
Brown rice. Unlike white rice, brown rice has tons of fiber, minerals, and other goodies. Plus it's super cheap and goes well with pretty much anything, which means stocking up on brown rice can save you a lot of money.
Beans. Beans are a great way to get your daily amount of protein without the unhealthy effects of eating too much meat. They also have lots of fiber. And like brown rice, you can use them in many different kinds of dishes, so introducing more beans into your diet is cheap and easy.
Canned tuna. Loaded with protein, minerals, and vitamins, fish is great for you. Unfortunately, it can also be expensive. Canned tuna, however, is cheap and has all of the benefits of more expensive fish.
Frozen vegetables. The high prices of fresh vegetables can deter you from eating healthy, so go for the frozen ones instead. They may not taste as good, but they're still plenty good for you and a lot less expensive.
Drink water. We spend a lot of money on soda and other unhealthy drinks. Replace them with water to benefit both your body and your wallet. You don't even have to buy it; just drink tap water, and get a refillable water bottle so you don't feel the need to buy soda when you're out of the house.
Neighbors Emergency Center offers 24 hour emergency care in Houston and Austin, so you can get the best medical help whenever you need it.