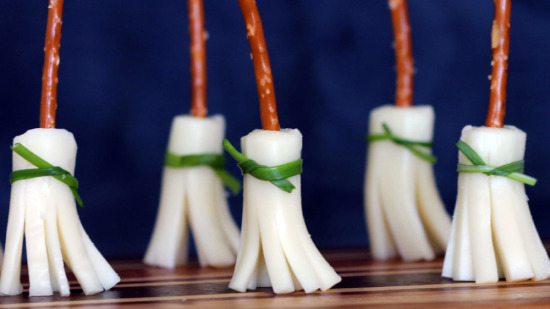 Whether you're hosting your own Halloween party, bringing bites and snacks to a friend's pumpkin carving party, or if you are just tired of giving out the same old candy like you do every year, Neighbors is here with a few crafty, but surprisingly simple treats you can make easily to liven up your Halloween this year!
Don't worry – they don't involve flax seed or wheat germ, but they are healthier substitutes for many Halloween candy staples.
First off, let's start with some simple recipes you can throw together in no time! You, of course, are familiar with Hershey's kisses and Vanilla Wafers, but did you know that you can make these adorable Halloween snacks by combining them?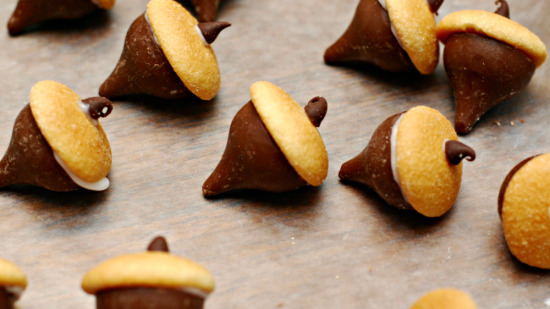 All you do is bind the kiss and the wafer with a little frosting (or cream cheese if you like) and do the same with the wafer and the chocolate chip! You can even substitute caramel, peanut butter, or butterscotch chips if you want!
If you're looking for a snack that's full of flavor, but lower on calories, try some spiced pumpkin-raisin cookies! You can even substitute stevia for the raw sugar. If you're not a raisin fan, try these apple cup crisps for a festive, one bite snack! Remember that substitute applesauce for butter trick we mentioned before? Well, you can do it here, too!
As pictured at the beginning of the article, you can make witch's broomsticks (or "Sorcerer's Apprentice brooms) very easily! All you need is cheese sticks, pretzel sticks, and some chives. You cut the cheese sticks into thirds and then slice "straws" into the ends of the cheese. Then, you stick that on the tip of the pretzel and tie a fresh chive around the top of the cheese for more authenticity!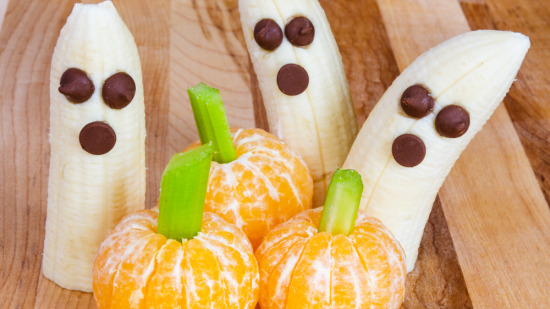 Yet another creative and easy option for a Halloween themed snacked are banana ghosts! All you do is cut a banana in half (after peeling it, of course) and use a regular chocolate chip for the nose and eyes. You can use mini chips for the eyes if you want some added cuteness. Could it get any simpler?
You'll easily tackle any Halloween sweet tooth with these snacks and bites. For spookier options, check out these other great and simple recipes for even more creative alternatives to ordinary Halloween candy.