Pasta and spring vegetables go hand in hand. Try these two pasta recipes filled with the freshest spring veggies. Whether you want to try something hot, or cold, we know you'll enjoy these hearty pasta dishes.
Farfalle with Spring Vegetables
Ingredients
2 slices of white sandwich bread, finely chopped (1 cup)
1/2 cup plus 2 tablespoons extra-virgin olive oil
2 tablespoons chopped flat-leaf parsley
2 tablespoons snipped chives
1 tablespoon chopped tarragon
Salt and freshly ground pepper
1 bunch broccolini
1 pound farfalle
4 tablespoons unsalted butter
1 garlic clove, minced
1 fennel bulb—halved, cored and thinly sliced
2 scallions, thinly sliced
1 cup frozen peas, thawed, or 1 pound fresh peas, shelled
1 tablespoon fresh lemon juice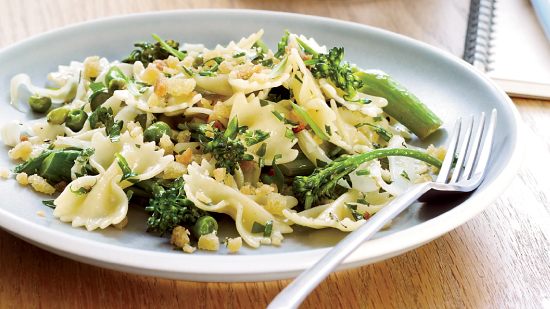 The key to this recipe is cooking all the vegetables on moderate heat until they are crisp and tender. On average this normally takes about 5 minutes. The herbs and seasonings are also very important, for a balanced overall flavor. This recipe takes about 45 minutes to make and serves 4.
Pasta Salad with Grilled Vegetables, Parsley and Feta
Ingredients
3/4 pound orecchiette
1/2 pound thin asparagus
1 medium zucchini, sliced lengthwise 1/4 inch thick
1/2 small eggplant, sliced lengthwise 1/2 inch thick
7 tablespoons extra-virgin olive oil
Kosher salt
Freshly ground pepper
2 1/2 tablespoons fresh lemon juice
1 small shallot, finely chopped
4 ounces French feta cheese (3/4 cup), crumbled
1 cup parsley leaves, coarsely chopped
1/3 cup pitted kalamata olives, coarsely chopped
This recipe is filled with luscious vegetables including asparagus, zucchini, and eggplant. Make sure to grill them on moderately high heat as you want them slightly charred for the best taste possible. Once grilled, cut up the vegetables and add them to the pasta along with the feta cheese.  This recipe takes about 25 minutes to make and serves 8.