The science of radiology is profound as its more than just X-rays. It is high-energy radiation that helps physicians with diagnosis and treatment during illness or after injury. But all that science doesn't just happen on its own. It is the Radiology Technologists that masters the controlling of the equipment so the radiographs are of the correct contrast, detail and density.
November 5-11 is National Radiologic Week and Neighbors Emergency Center is pleased to honor, and thank, our tremendous team of Radiology Technologists. Let us introduce you to some of the dedicated professionals that are the people behind our patients at Neighbors Emergency Centers.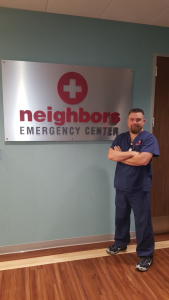 JERRY in Crosby
Wanting to make a difference in the community in which he lives, Jerry came to Neighbors almost five years ago when the center opened, after working in a big hospital system.
"I liked the style of medicine and patient care that was given. It was so different than in the hospital setting," Jerry said. "The care at Neighbors is more personal and genuine, especially in the Radiology field. At hospitals, patients are just numbers to a busy, high-volume department. That's not the case at Neighbors."
Since Jerry joined Neighbors and began working within his own community, his commute is short which makes family time special.
When not at work, the married father of two children enjoys supporting their activities. Sometimes as a team coach, sometimes from the sidelines, but always present. He even gets time to enjoy with friends and go off-roading or hang out at the lake. Nonetheless Jerry is always ready to lend a hand.
"I have always found Jerry to be dependable, efficient and punctual," stated Elena Turner, Neighbors Crosby Facility Director. "He projects a warm, cheerful attitude to our patients and his fellow co-workers. As our center's Lead Radiology Tech, he goes above and beyond for his employees.
"I have seen him resolve conflicts and handle other difficult situations with remarkable patience and admirable tact. In the community he goes out of his way to help people in need by participating in local charity events. He loves people, works hard, and always tries to lift the spirits of those around him."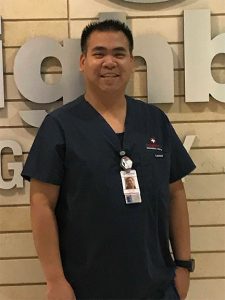 TONY in Pearland
Outstanding work ethic and dependability. Just two of the many reasons that Tony was nominated from Neighbors Pearland.
"He enters the facility with the most positive, can do attitude," commented Tina Lavert, Neighbors Pearland Facility Director. "He is a huge asset to his team. Tony is extremely knowledgeable with not only CT and X-rays, he has also become a guru in the laboratory."
"X-rays and CT scans are key factors in diagnostics," Tony recently shared. "As a radiology technologist, I get to be a part of the first step in discovering a patient's condition. The patients I see are usually nervous or worried of the outcome they may have to face, so I like to put their minds at ease and tell them they've taken the right first step toward healing.
"Technology has advanced significantly and I look forward to how it will change the future of medical imaging."
Tony has been a radiology technologist for over six years. The married father of two children is also a big sports fan and enjoys playing football, baseball and tennis.
"Neighbors Emergency Center is a great place to work because we truly care for the well-being of the patients we see. Since the first day I started, Neighbors just felt like a second home."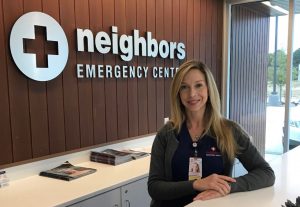 SHERRI in Texarkana
Radiology humor includes the saying 'it's what's on the inside that counts.' Someone that brings a fun and cheerful spirit to work is how the Neighbors Texarkana team sees Sherri.
"Sherri will always show up to work with a smile on her face," Neighbors Texarkana Facility Director Blake George shared. "She treats all her patients with compassion and does her best to make their time at Neighbors the best it can be. Sherri is the person you can count on to show up early, stay a little late and go the extra mile for her team."
"I enjoy my career in Radiology for many reasons," Sherri said. "I knew I wanted to do something that would help people. I am a caretaker by nature. Performing X-rays and CT scans gives me the opportunity to be the one that can actually see what is causing the pain or illness from the inside out.
Being able to connect with her patients is also one of Sherri's special gifts.
"No CT or X-ray is the same because every patient is different. Neighbors lets me spend that extra time helping patients that I wouldn't find at a hospital ER. It is just part of what sets Neighbors above."
MELODIE in Amarillo
"I decided to become a radiology technologist because of an experience I had as a child when I got X-rays for a broken arm," is how Melodie started her story. "I wanted to make a difference in someone's life like the tech that took care of me.
"When I came to Neighbors, it was a completely different experience from the hospital. Here, as a radiology technologist, I actually take care of the patient from the time they walk in the door to the time they walk out. I've learned so much about patient care in the last two years and I've enjoyed every minute of it."
This soon-to-be first-time grandmother also enjoys spending time with family and friends. Likewise, her Neighbors family appreciates the experience and dedication she brings with her.
"I have known Melodie for years as one of the hardest working people," said Neighbors Amarillo Nurse Chris Heath. "She is always willing to help others and brings a positive attitude to any problem. She has adapted well to this environment because she cares about her patients and wants to give them the best care she has to offer. She is a great employee, a great caregiver and an even better friend. We love her."
GLENN in Kingwood
With a true desire to help people, Glenn chose his profession after many years in a different line of work. He started as a volunteer EMT a couple days each month, filling a need to give back to his community.
"I quickly realized the true meaning of helping someone in need, and the self-worth in doing so," Glenn said. "I also found during that time I possessed an ability to connect with the patient's needs.
"This position requires compassion to understand that one particular event may just be the single most devastating thing that's ever happened to that individual. If I can try to put myself in their shoes, how would I want to be treated? Better yet, I could only hope for something positive, in a usually negative environment."
Glenn knew as a radiology technologist that he could contribute in a big way.
"The Rad Tech's role in the huge chain we call patient care is so important. I realized all the things I considered strengths as an EMT, were the same strengths needed as a Rad Tech. I was always interested in how the human body works and functions, combine that with the science of our field and I had found my calling."
Glenn credits the support of his wife Julie for the opportunity to pursue a career change and follow his passion for radiology. Neighbors is thankful that he did.
"He is always concerned about the patient's well-being and their privacy," commented Neighbors Kingwood Facility Director Tommy Cook. "He is not afraid to ask questions about new processes when presented in order to give the patient the best experience. Our lead radiology technologist has been out on maternity leave and Glenn has helped keep things organized and running smoothly during her absence."
Glenn has two adult children, two granddaughters and also enjoys being outdoors and doing anything sports related.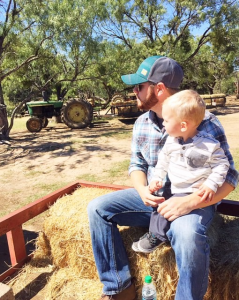 JR in Austin
Quiet. Calm. Team leader. All words that Neighbors Mueller Facility Director Michelle Tribble used to describe JR.
"JR is committed to always do an outstanding job. No matter the task, he tackles it with fervor," Michelle said. "He is well respected and an important, outstanding team member at Mueller."
However, JR describes becoming a radiology technologist this way.
"Circumstance and destiny collided when I left home for the Air Force in 2005," he said. "I had a pick of eight different jobs. The Air Force made the choice of radiology technologist for me. It certainly became a life changing decision as 12 years later, here I am, still doing it and still loving it."
JR is married to Caitlin, who also works at Neighbors Mueller, and is the proud father of a 2-year-old son. They have also found the area to be the right place to set roots down for their family.
"I found Neighbors when I was looking to move to Austin in 2014. I had several phone conversations with our Radiology leadership and I persuaded him to take a chance on me sight unseen. I will forever cherish Neighbors and the many opportunities it has afforded me."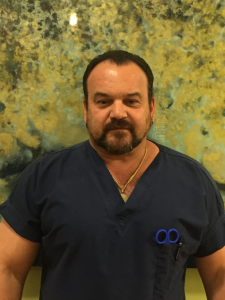 PETE in Kerrville
Sometimes life offers you an adjustment and it ends up making all the difference.
"After 18 years as a medical assistant I decided I needed a change," Pete said. "I found a great school close to where I was working, and there started the journey to where I am now."
Pete spent years working in a mainstream hospital system as well as working at a V.A. hospital. That change he had already experienced once now came in the form of freestanding ERs, which led him to Neighbors Kerrville.
"I met with the leadership of the Neighbors Radiology Department and was inspired by his passion for this company. It's been a great journey which I hope will continue for years to come."
Now it is Pete that is leading, serving as Neighbors Kerrville's Lead Radiology Technologist.
"Kerrville is so small that we do not have a 24-hour courier, so Pete volunteers to take the patient samples himself, even on his day off, the 50-mile round-trip trek to Fredericksburg to drop off them off for us," stated Neighbors Kerrville Facility Director Amanda Bailey. "Keep in mind, this is not during business hours, so the timing can be very inconvenient.
"But Pete is our guy. I would like to thank him, and all our team, for their continued dedication and support of the citizens of Kerrville."
Any down time Pete has is spent with wife Nickole, three children, a new granddaughter and staying active at the gym or being outdoors.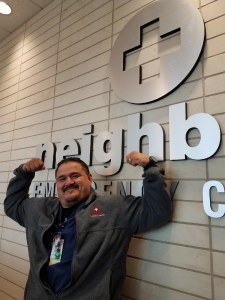 CARLOS in Brownsville
"I chose to be a radiology technologist because I was so intrigued by the profession when I had a CT scan done on me many years ago," Carlos said. "The technology that we use to help patients at Neighbors is amazing and I am excited to be a part of that."
Each Neighbors Emergency Center is ready 24/7 with in-house CT Scan, Ultrasound and X-ray equipment.
"I love working at Neighbors because it allows me to spend more time with my patients in doing what I love. It also has expanded my skills to other areas such as in our on-site laboratory."
Neighbors Brownsville Facility Director Jennifer Miner added how friendly and hardworking Carlos is.
"He consistently goes above and beyond for the staff and patients. Carlos truly represents the Neighbors core values of having a genuine heart, a guardian mentality and a welcoming smile. We consider ourselves very lucky to have him as part of our team."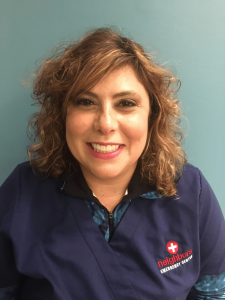 TRISHA in Bellaire
Neighbors Emergency Center prides itself on attracting the best medical professionals in their respected fields. Trisha stands out for her compassion and excellent customer service, as she gives her best to her patients and always goes above and beyond the already high level expected at Neighbors.
"Her co-workers are treated like her patients, as well and treated with the utmost respect," Neighbors Bellaire Facility Director Krystal Wickliff said recently. "She exemplifies all aspects of our Neighbors culture."
Trisha came into her profession after caring for a beloved family member.
"My family is an important and integral part of my life," Trisha began. "When my grandmother became ill, I helped to care for her and stayed with her in the hospitals. One time I noticed the difference in care that the staff provided. When there was a positive nurse or doctor, it really made an impact on the way all the patients felt.
"Even when my grandmother was in pain and the nurse would speak to her kindly, she visibly brightened. At this point, I knew that I could make a difference and help people also."
Encouraged by her husband to pursue a degree in Radiology, Trisha soon found herself at Neighbors.
"Neighbors exemplifies the same values I feel strongly about, such as treating patients as if you are treating your own family. Our leaders at Neighbors Bellaire show us through their hard work how to put this into practice."
It is the performing of diagnostic imaging, at any time that a patient needs it, that contributes to the Neighbors difference. We are privileged to work with such dedicated people that make lives better for their patients every day.