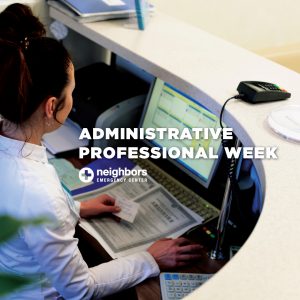 After the medical emergency has happened, after the fear has turned to chaos, you are looking for help when you or a loved one is in need. You want a welcoming person that will treat you like family. You will meet that smiling, caring face when you enter Neighbors Emergency Center.
The first person to greet you will be one of our outstanding Administrative Assistants (AA), trained professionals that quickly assist you with seeing a board-certified physician, registration and insurance information.
As we celebrate Administrative Professionals Week, we are excited to introduce you to just a few of the amazing AAs that have chosen to be part of the Neighbors family.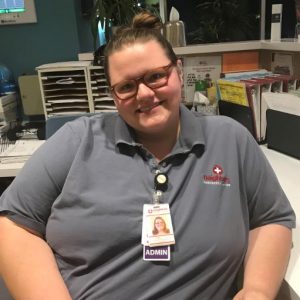 Lisa in Odessa
A trusted and dependable team member and heralded as one with a big heart, Lisa has been part of the Neighbors family since Neighbors Odessa opened in December 2015. One factor that stands out when working with Lisa is her positive attitude. She thinks of our patients even after they have left the center, calling to follow up on their progress.
"She greets everyone with a smile and goes above and beyond to make everyone that walks in our doors feel welcomed," stated Neighbors Odessa Marketing Liaison Eve Gamboa. "She is always available to answer any questions and is a great asset to our Permian Basin Neighbors team."
---
Chelsea in Baytown
Chelsea has been part of the Neighbors family for over 3 years and recently taken on the role as Neighbors Baytown's Lead AA. Her co-workers note her phenomenal job of transitioning from a regional role back to working in the clinical setting.
"Chelsea leads by example, exemplifies team work, and embraces the Neighbors culture," said Neighbors Baytown Facility Director Krystal Wickliff. "Besides our Baytown center, she is an asset to the entire Neighbors organization. Multi-tasking, problem-solving, and most importantly, her fun personality are just a few attributes that Chelsea possesses that are not replaceable. She deserves to be recognize today and every day."
---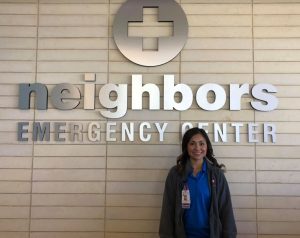 Alyson in Amarillo
As a freestanding ER, all types of medical emergencies present themselves at the Neighbors front desk. Being able to adjust and work under stress is a must for the position. Alyson excels at being friendly, juggling multiple projects and staying organize, as well as taking care of patients from the moment they step into our center seeking medical care.
"Alyson exceeds expectations in the role of Administrative Assistant," stated Neighbors Amarillo Lead AA Kara Emery. "Alyson adapts to change easily, works well under pressure with a positive attitude and is detail-oriented. Her constant positive attitude serves as an example for everyone on her team. Alyson is a valued member of our Neighbors family and we look forward to continually working with her."
---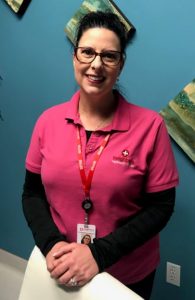 Laurie in Pearland
Not only do our Neighbors AAs greet and register patients, its also important they exemplify the Neighbors values of having a compassionate heart, a nurturing mentality complete with a welcoming smile. Those very traits you will find in Laurie at Neighbors Pearland.
"Laurie possesses the tenacity and forward-thinking mindset which embodies our Neighbors values and culture," said Neighbors Pearland Facility Director Tina LeVert. "Laurie is an excellent communicator who delivers outstanding customer service to our patients and to everyone who comes into our Pearland center. She truly embodies the heart and window of Neighbors Emergency Center. Laurie is an asset to us and is definitely an integral factor in our success. We are honored to have Laurie on our team."
---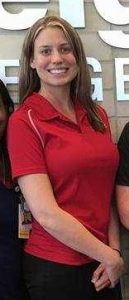 Glynnis in Porter
Glynnis has been part of the Neighbors family for seven years and actually started with the company at Neighbors Kingwood. Part of the original team when Neighbors Porter opened two years ago, Glynnis is the Lead AA and has made a lasting impression on many that come into contact with her.
"Glynnis does a great job and is always willing to help when needed," shared Neighbors Porter Marketing Liaison Claire King. "She has a great personality and knows how to always make our patients feel welcome."
---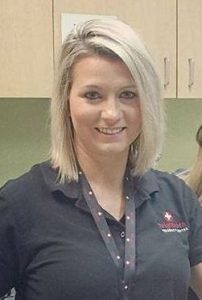 Kristie in Austin
Crafty and creative is great gifts to have. It's even better when those artistic people share their talents with their team members. Such is the case of Kristie, who as recently as Easter made holiday gifts for her teammates at Neighbors Mueller. But it's her strong work ethic that makes her a stand-out.
"Kristie is our Lead AA and is an awesome example of diligence and dedication to the position," commented Neighbors Mueller Facility Director Michelle Tribble. "Kristie has a desire to do her job well and that shows in her tenacity to always strive for excellence. She performs the job of the AA exceptionally well and leads her team to do the same."
---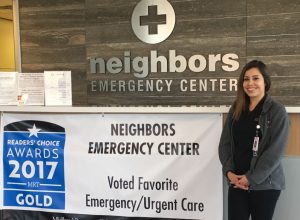 Marisol in Midland
Outstanding patient customer service and great team work are just a few of the ways Marisol with Neighbors Midland has been described.
"Marisol is friendly to everyone and smiles constantly," commented Neighbors Midland Facility Director Lisa Powers. "She always has a good attitude and is ready to help out anyone that needs or asks."
---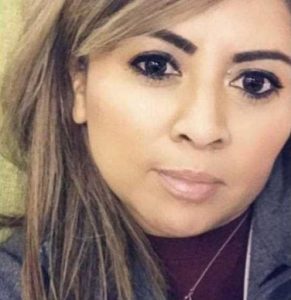 Geneva in Lubbock
Born in Wichita Falls but she considers herself a native of Lubbock, Geneva treasures time with her kids and hopes to spend some time travelling with them. But when she is on duty at Neighbors Lubbock, rest assured she is ready to help patients.
"When you have a family emergency and walk through the doors of Neighbors Lubbock, you will be glad that you were met by Geneva," said Neighbors Lubbock Marketing Liaison Tom Slowik. "Her infectious smile, caring attitude and her empathetic expressions make you feel that you are in the right place with the right people to ease your pain and concerns. Geneva has been part of the Neighbors family since we opened in December 2016. She is best described as someone who is willing to help whomever, wherever and whenever she can. Always without complaint and always with a positive, uplifting outlook."
---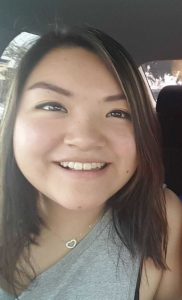 Joanne in Houston
As a testament to her great work and example of Neighbors values, Joanne was recently promoted to Lead AA at Neighbors Copperfield. Known as attentive and highly dedicated to patients, Joanne is that friendly, knowledgeable person you first encounter when entering the center.
"Joanne is always the best at what she does and we are so happy she chooses to share her talents with us," said Neighbors Copperfield Marketing Liaison Claire King. "She is a ray of sunshine and brightens the day for those coming to us in a medical emergency."
---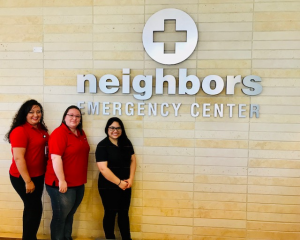 Christina, Denise and Angela in Harlingen
Everything we do at Neighbors is a team effort, and our friends at Neighbors Harlingen have a dynamic AA team. Lead AA Christina, along with Denise and Angela, are known for their commitment and effectiveness as a team and individually to each patient we are privileged to serve in the community.
We applaud each of our AAs that are part of the Neighbors family and thank them for the work they do. They are the friendly, welcoming people that our patients count on when they walk into any of the 22 Neighbors Emergency Center locations. Thank you, AAs, for being the warm greeter and knowledgeable person our patients first meet and for being the beginning of the Neighbors difference.