Fall is here, and that means the glorious tuber known as the sweet potato is in season. The sweet potato is very healthy, as long as they aren't covered in brown sugar and marshmallows.
Sweet potatoes have wonderful health benefits. They are high in vitamins B6, C, and D. They are also a good source of iron, magnesium, and potassium. They are a great source of energy, because their sugars are slowly released into the body.
They are also packed with carotenoids, which help ward off cancer and the effects of aging.  On top of all this, sweet potatoes are healthy, filling, and are a great option for any meal.
A baked sweet potato is a blank canvas for a variety of toppings. Pierce sweet potatoes several times with a fork and place directly on middle rack of oven. Place a piece of foil on the rack below to catch drips. Bake in a 400F oven for 45 – 60 minutes. Bake until potatoes are easily pierced with a knife and cooked all the way through. Remove from oven and let stand until they are cool enough to touch. While the sweet potatoes are baking, prepare the toppings. When the sweet potatoes have cooled, slice down the middle and add toppings. You can use anything from black beans, corn, cheese, and salsa to make a southwestern-style sweet potato, or use leftovers from Thanksgiving dinner to load it up. Top a sweet potato with shredded turkey, cranberries, and stuffing for something different than the usual turkey sandwich.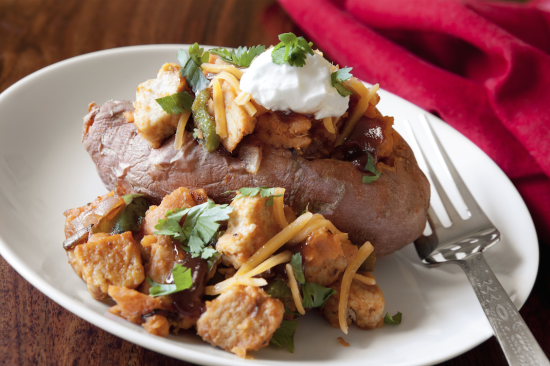 You can also make delicious oven-baked sweet potato fries, which are healthier than french fries from a fast food restaurant.
Peel three or four sweet potatoes and cut into strips, however thick and long you want. Put sweet potato slices in a gallon-sized plastic bag. Pour in ¼ cup of olive oil, 1 Tbsp. of salt, and 1-2 Tbsp. of any of these spices: Chipotle powder, paprika, cumin, rosemary, etc. Shake all the ingredients till the sweet potato slices are coated with olive oil and spices evenly.
Spread the sweet potato slices in a single layer on a foil-lined baking pan. Bake in a 450F oven for 25-30 minutes. About half-way through the baking time, take the pan out and turn over all the sweet potato pieces so they cook evenly. Return to the oven and bake for the remaining time. Serve with homemade spicy ketchup, honey mustard, or sriracha sauce for a spicy kick.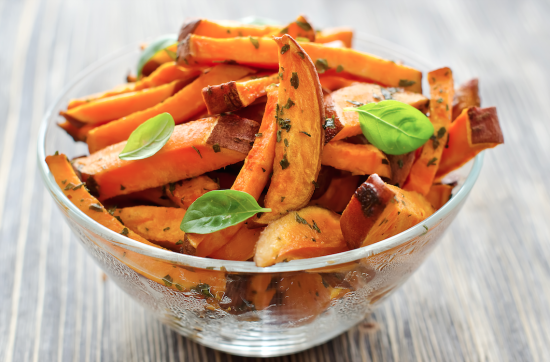 Whichever way you choose to make and eat sweet potatoes, you can't go wrong. They are a simple, delicious, economical way to eat healthy.