Neighbors Emergency Center is proud to become the newest member of the Rotary Club of Austin.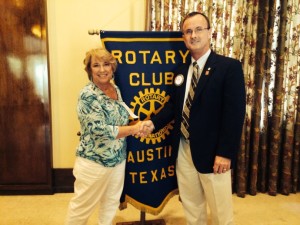 The Rotary Club of Austin, the oldest and largest club in the city, is a group of local business leaders dedicated to improving their community through humanitarian acts. It is one of the 30,000 chapters of Rotary International operating in 160 countries. Activities include, among other things, the Fulmore Middle School Sponsorship, Service Austin (a community service day), scholarships, and Camp Enterprise, a weekend camp experience designed to teach high school students about business and entrepreneurship. Neighbors joined the club at a ceremony featuring Dr. Tony Dale as a speaker.
Neighbors Emergency Center is dedicated both to providing top quality 24 hour emergency care in Houston and Austin, and to giving back to its community in any way possible. Neighbors opened its Austin location, its first center in the city, on July 15, 2014. Our induction into the Rotary Club of Austin marks the beginning of what we hope is a long period of service to our new community. We're on our way to becoming Austin's best neighbors ever!