Fall is officially here! That means for all those pumpkin lovers, it's time to get in the kitchen and start baking! Try these sweet and delicious pumpkin recipes that are flavorful, warm, and taste like Autumn.  
Pumpkin Pie
Flour, for the surface

1/2 recipe double-crust pie dough (1 disk)

3 large eggs

1 c. light coconut milk or evaporated milk

1 15-oz. can pumpkin purée

3/4 c. mix of granulated white and packed dark brown sugar
1/2 tsp. kosher salt

1 tsp. cinnamon

1 tsp. ground ginger

1/4 tsp. freshly ground nutmeg

Pinch ground cloves

Whipped cream, for serving
Pumpkin pie is a classic fall recipe. Although some recipes can be complicated, this one is simple, with a prep time of only 15 minutes. All ingredients can be mixed together in one large bowl and then transferred into a delicious prepared pie crust. Be sure to bake until the filling is set and no longer runny, which takes around 50 minutes. Be sure to serve with a large dollop of whipped cream.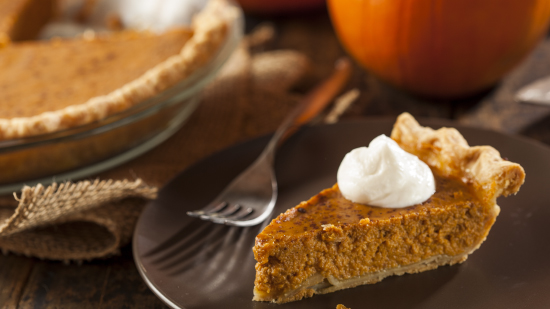 Spiced Pumpkin Waffles
2½ c. all-purpose flour

1 tbsp. baking powder

2 tsp. cinnamon

1 tsp. ginger

½ tsp. baking soda

½ tsp. salt

½ tsp. fresh-ground nutmeg
¼ tsp. cloves

4 large eggs

2 c. buttermilk

1 c. pumpkin purée

½ c. dark brown sugar

¼ c. unsalted butter

1 tsp. pure vanilla extract
Whether it's morning, noon, or night pumpkin always hits the spot. Greet the day with these waffles full of fall flavors. THey have everything from cinnamon to nutmeg throughout the batter. Top them off with some hot maple syrup and fresh pears for the ultimate breakfast experience. This recipe serves around 8.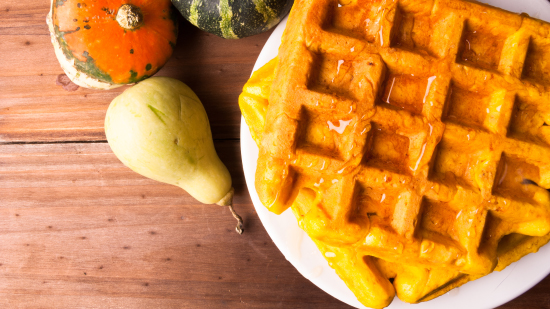 Pumpkin Bran Muffins
1 c. whole-wheat flour

¾ c. wheat bran

¾ c. granulated sugar

1½ tsp. ground cinnamon

1 tsp. baking powder

1 tsp. baking soda
½ tsp. kosher salt

1 c. canned pure pumpkin

2 eggs

⅔ c. buttermilk

¼ c. canola oil

Orange cream
These muffins have a consistent fluffy texture and taste like fall. They only take 10 minutes to prepare, and make 12 muffins. You can also serve them with orange creme to give them an extra zesty flavor in addition to the pumpkin.