Easter is right around the corner. And what better way to celebrate than with fun, colorful, holiday themed snacks? Whether you're hosting an Easter celebration, or attending one, these sweet treats are sure to be a hit.
Ice Cream Cone Baskets
This is a fantastic favor for your guest if you are having an Easter gathering. They add a vibrant touch to the table. For this treat you will need jelly beans (or your candy of choice), apple licorice, and ice cream cones. To create your ice cream cone baskets fill the ice cream cones with jelly beans. Then with a small knife cut holes into each side of the cone. Next take the apple licorice stick and tuck each end into the holes creating a handle. You can design your cone baskets any way you want. Make them a colorful mixture of jelly beans, or separate them out by color. You can also substitute your favorite bite size candy instead of jelly beans.
Easter Egg Hunt Cookies
This dessert recipe is full of ingredients that will have you drooling until it's time to dig in. Cookies, Cadbury eggs, frosting and M&Ms all make for a grand slam. After creating the dough for your cookies wrap a Cadbury egg inside of it and then place it inside a greased muffin tin.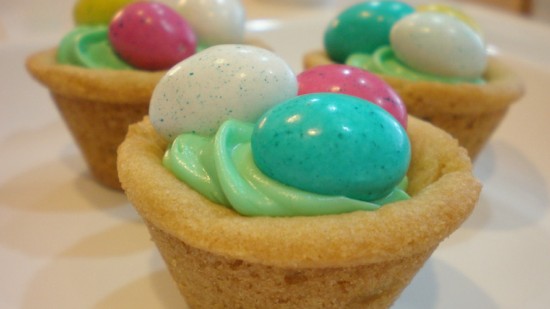 Follow the baking instructions and then be sure to allow them to cool for at least 10-12 minutes to avoid the cookies breaking upon removal from the pan. After cookies are completely cooled, top them with frosting and the candy of choice!
Bunny Pops
These bunny pops are so cute, they might be too difficult to eat! For this recipe you will need cocoa rice krispie treats (prepared), lollipop sticks, white chocolate melts, candy eyes, and a bunner cutter. You can also feel free to shape the bunnies by hand as well.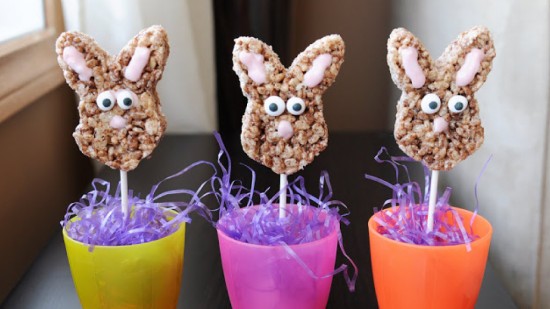 Once you have your pan of rice krispie treats shape the bunny head. Then insert a lollipop stick into the bottom of each bunny. Melt your white chocolate and add just a drop of red food coloring to create a light pink. Next spread on the chocolate on the treat to create the nose and ears. Then using the icing, "glue" on the candy eyes.
Homemade Peeps
Peeps are a crowd favorite on Easter. Why not try making such a fun and easy treat yourself? For your homemade peeps you will need large marshmallows, candy sticks, pastel colored sprinkles (found in the baking aisle) and water.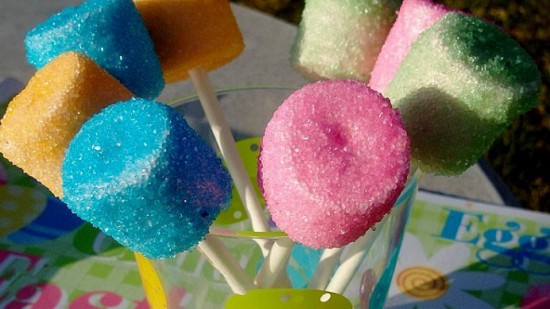 To begin simply place the sticks inside the marshmallows, and then dip them into water making them damp. Be sure to lightly dab off the excess water on a paper towel. Then roll each marshmallow in your colored sprinkles. Be sure to try and coat it evenly. Then place them upright and allow them to dry. Once the are fully dried, you can serve them.
Neighbors Emergency Center supports your start to a healthier lifestyle. NEC has just opened up a Neighbors in Porter, Texas! Our new center is located on 22678 Hwy. 59, Porter, Texas 77365.
We are so excited to serve the Porter community! Check our Facebook page to stay updated on what Neighbors is doing and new center openings. With our 24 hour emergency rooms throughout the Houston metro area, we can treat you quickly and effectively so you can get back to doing what you love.