Broccoli has become a side dish that we have accepted into our dinnertime habits. However, it can be seen as a bland necessity, prepared without much thought, and eaten hastily for its nutritional value of minerals, vitamins, and fiber. Well, say goodbye to bland broccoli! Try these fantastic recipes from Real Simple and make broccoli a main dish to die for.
Broccoli and Pepper Stir-Fry
Ingredients
1 tablespoon canola oil
1 tablespoon grated fresh ginger
1 bell pepper, chopped
1 bunch broccoli, cut into florets (6 cups)
1 bunch scallions, sliced
1/4 cup hoisin sauce
1 tablespoon toasted sesame seeds
This dish only takes about 15 minutes to make, and uses simple, delicious, and light ingredients. Start by cooking the ginger over medium high heat, and then add bell peppers, broccoli, and scallions tossing them for about 4 minutes, or until tender. Finally add the hoisin sauce, water, and sesame seeds. At only 129 calories per serving, you can give yourself a second helping.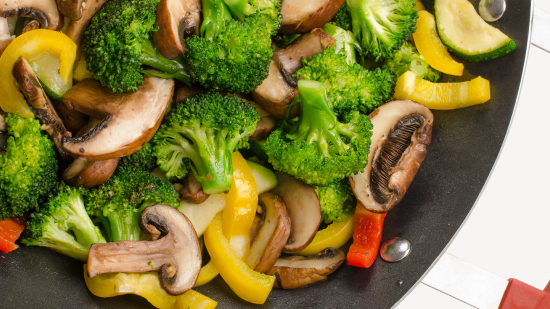 Mashed Potatoes and Broccoli
Ingredients
1/2 bunch broccoli, finely chopped (3 cups)
1 pound Yukon gold potatoes, peeled and cut into 1⁄2-inch pieces
1/4 cup sour cream
4 tablespoons unsalted butter, softened
Kosher salt and black pepper
Who doesn't love a large helping of mash potatoes? Get healthy, and take this comfort food to the next level by adding a rich helping of broccoli. Steam the broccoli and potatoes until tender, which takes around 10 minutes. After the veggies have been drained add sour cream, butter, salt and pepper and mash them to your preferred consistency.
Creamy Broccoli and Apple Slaw
Ingredients
1/2 cup plain low-fat yogurt
1/4 cup mayonnaise
1 tablespoon cider vinegar
1 small shallot, finely chopped
kosher salt and black pepper
1/2 bunch broccoli, finely chopped (3 cups)
1/2 apple, finely chopped
1/4 cup dried cranberries
2 tablespoons toasted pine nuts
This recipe requires no cooking, only mixing! It's cool, refreshing, crunchy, and only 200 calories per serving.  In a large bowl combine the yogurt, mayonnaise, shallot, vinegar, salt and pepper. Be sure to mix well. Next, you will add the broccoli, apple, cranberries, and pine nuts. Toss until all the ingredients are well combined.