Neighbors Emergency Center is excited to announce that our CEO, Dr. Setul G. Patel won the 2015 EY Healthcare Entrepreneur of the Year Award for the Gulf Coast area. The award ceremony was held at the Hilton Americas – Houston Hotel on Thursday, June 25th. Many members of the Neighbors family were in attendance to cheer him on.
As a regional award winner, Dr. Setul G. Patel is eligible for the EY Entrepreneur of the Year national award, which will be announced on November 14th in Palm Springs, California. The winner of the national award will go on to compete for the World Entrepreneur of the Year Award in June 2016 in Monaco.
EY's Entrepreneur Of The Year is considered the world's most prestigious business award. The nominees not only create and build successful businesses, but also revolutionize their industry, perpetuate a standard of excellence, create jobs,  and bring a sense of vibrancy to surrounding communities.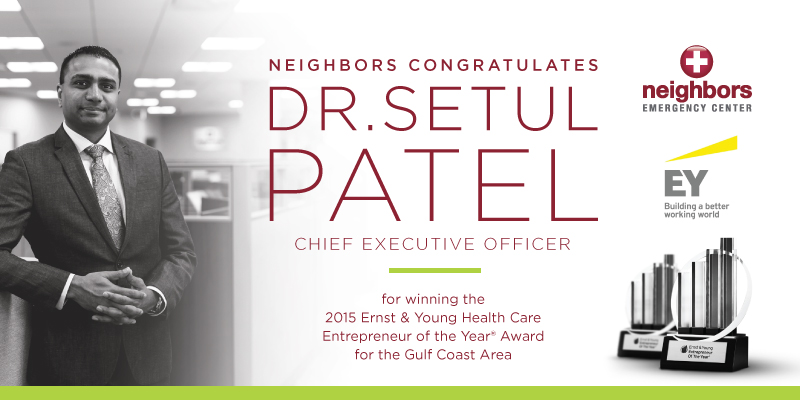 Dr. Setul G. Patel, MD, MBA helped found Neighbors Health System in 2008, a regional emergency medicine healthcare delivery model through free-standing emergency facilities. As President and CEO, Setul has helped grow the company with simple philosophies—take care of the patient and take care of the people who deliver their care. In addition to providing exceptional patient care, Neighbors offers physicians equity opportunities to invest in their facilities. This model has helped grow the pool of quality physicians in the Neighbors organization and lead to high quality patient care in the communities they serve.
Dr. Setul G. Patel started his career as an emergency room physician, graduating from the School of Medicine at the University of Virginia and completing specialty training at Christiana Care Health System in Newark, Delaware, where he was also Chief Resident. After obtaining his MBA from the University of Tennessee and graduating Phi Kappa Phi, Dr. Patel helped found Neighbors and has never looked back. His leadership style is mission driven and vision focused and believes sound business principles lead to value delivery and organizational success. Through a hectic administrative schedule, Setul still finds time to see patients through clinical shifts in the ER several times a month, exemplifying the philosophies he promotes.
We are proud that Chief Executive Officer Dr. Setul G. Patel has won this distinguished award.