A recent food that has gained popularity in the world of healthy eating is quinoa. Pronounced "keen-whah" this gluten-free source of protein is a full of iron, and fiber, and is a great source of whole grains. Quinoa is actually a seed that originated thousands of years ago in the Andes Mountains. It not only contains essential amino acids that our bodies can't make on their own, but is also extremely easy to digest.
Cooking quinoa is extremely simple. Be sure to always rinse it first, as it has a natural coating that protects the seed. To do this, just place it in a strainer, and rinse with cold water for one to two minutes. To cook quinoa use one part quinoa to two parts liquid. You can use plain water, or for more flavor use vegetable, or chicken broth for extra low-calorie flavoring. Bring the liquid and quinoa to a boil, then reduce to a simmer, letting it cook for 10 to 15 minutes, or until all the liquid is absorbed.
Quinoa has a crunchy, nutty, earthy flavor. It works well in salads, veggie burgers, breakfast and so much more! You can find it at your local health store. Quinoa can last for months, so when you are storing it be sure to store it air-tight and in the refrigerator. Check out some of these great recipes you can incorporate your quinoa into to.
This amazing salad is extremely easy to put together and has a calorie count of 238 per serving.
The dressing is a delicious combination of lemon juice, olive oil, honey, salt and pepper.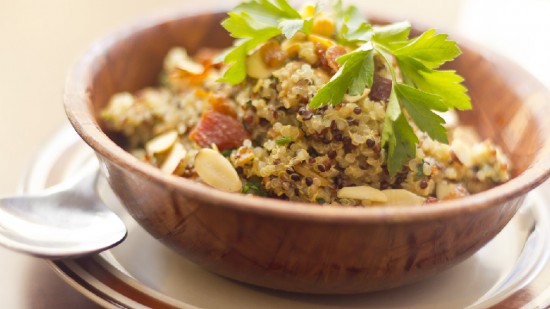 A colorful pop is brought to the salad with hearty servings of parsley, celery, onions and apricots. The additional texture of the quinoa brings the whole salad together.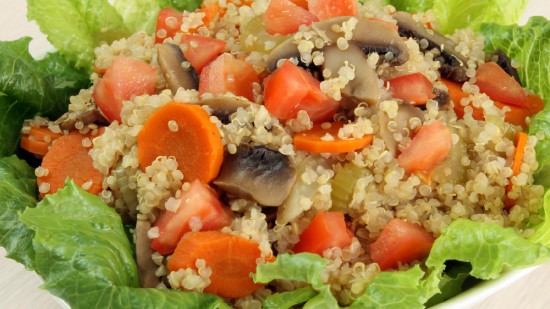 Quinoa with Leeks and Shiitake Mushrooms
You will love this meatless entree! This dish is filled with delicious leeks, mushrooms, and red bell pepper. Cooked in white wine, the flavor is strong and compliments the dish well. The combination of tender vegetables, quinoa, and the topping of crunchy walnuts will have you going back for seconds.
Quick-Cured Sake Salmon with Quinoa
If you love salmon, this dish is for you. This dish is full of protein and flavor. For this recipe you can prepare the quinoa in water, because this meal is well flavored with garlic, butter, salt, and chili paste. Be sure to allow plenty of time for prep, as the salmon should be seasoned and chilled for two hours.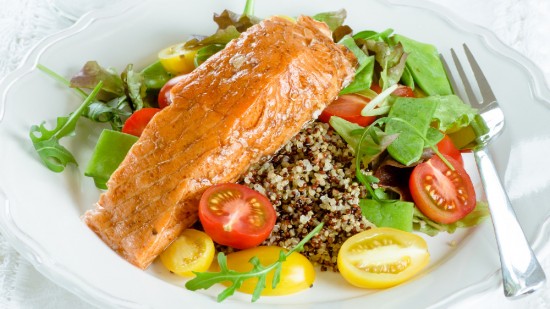 Stay happy and healthy during this new fall season, and check back in with your best neighbors ever to get new recipies weekly. Neighbors Emergency Center supports your start to a healthier lifestyle. Neighbors Emergency Center supports your start to a healthier lifestyle.Visit our new Tyler location at 2222 E. Southeast Loop 323, Tyler TX 75701. With a 24 Hour Emergency Rooms throughout the Houston metro area, we can treat you quickly and effectively so you can get back to doing what you love.