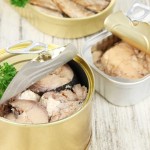 I'm a huge fan of make-ahead lunches. When you work full time (or simply have a crazy busy schedule) it can be hard to stick to eating healthy. When you're in a hurry, the temptation of the drive thru window is strong. Having your lunch made ahead of time makes it easier to make smart choices with what you eat.
This Canned Tuna Ceviche recipe from Skinnytaste is a fantastic option for lunch on a busy day. It's quick and easy to make with very few ingredients and even more convenient when you make it the night before or in the morning. Personally, I like to make it the night before so the flavors have even more time to meld together.
Canned tuna has a ton of health benefits, whether weight loss is you goal or if you simply want to be as healthy as possible. The popular sandwich ingredient is high in omega-3 fatty acids, which are essential to your body's maintenance of healthy hair and skin as well as your heart health and brain function. This recipe is so much better for you than the traditional mayonnaise-laden tuna salad. Make sure you buy canned tuna that says "chunk white tuna packed in water" to ensure the most health benefits.
Even if you're not a huge fan of the taste of tuna, you should at least give this recipe a shot. The lime juice seems to remove the "fishy" tones and mixed with the spicy Tabasco, you get a fun, Latin-inspired flavor!
Speaking of having a busy schedule, did you know Neighbors Emergency Center is open 24/7 and there is little to no waiting? When an emergency arises, or even an illness, it's important to have access to a team of Houston board certified emergency physicians, get treated and get back on your feet quickly. We are the emergency center in Houston that focuses on the patient and their overall ER experience. You shouldn't have to wait to received emergency care. Trust one of the top 24 hour emergency care facilities in Houston. Visit www.nec24.com to find your nearest Neighbors location!