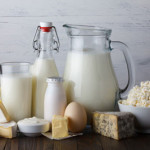 This quick list will provide you with all of the information you need to successfully incorporate dairy, and therefore more calcium, into your diet:
Drink Skim––Low fat milk cuts the calories, but doesn't reduce the calcium content.
Low-Fat Milk and Yogurt––Potassium and vitamin D are abundant in milk and yogurt along with calcium.
Top Off Your Meals––Use low-fat yogurt instead of sour cream on baked potatoes.
Choose Cheese with Less Fat––Low-fat can be just as tasty.
Cream Cheese?––Not a part of the food group! It's high in saturated fat and has little to no calcium.
Switch Ingredients––Try ricotta cheese instead of cream cheese, or evaporated milk instead of cream.
Choose Sweet Dairy with Care––Be careful of the added sugars in the treats.
Caffeine––Adding a little milk to your morning coffee could give you the calcium kick you need.
Lactose-intolerant?––Soymilk can deliver the same calcium that dairy provides.
You Drink, They Drink––By showing your kids that you enjoy dairy, they're more likely to enjoy it, too.